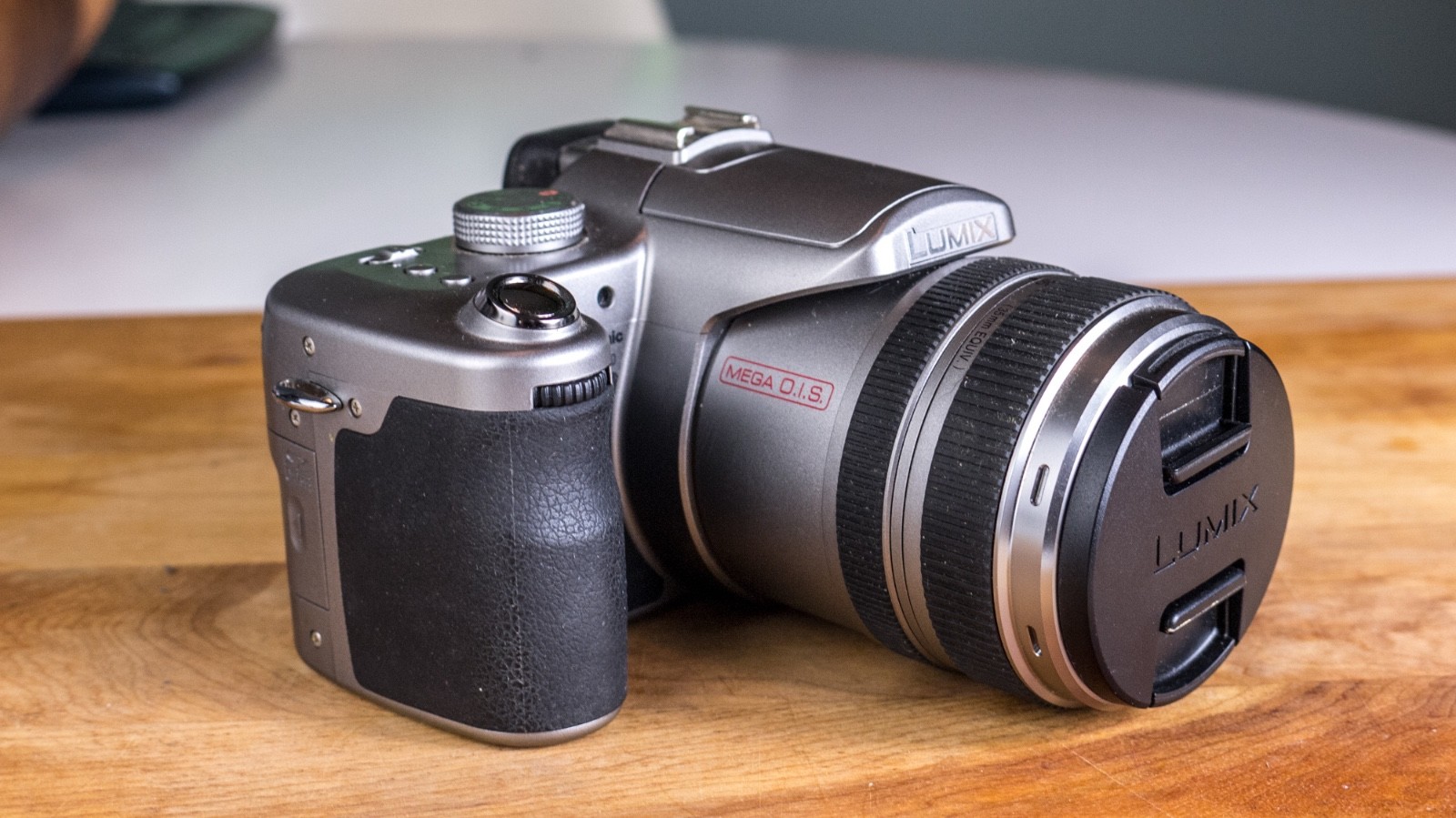 Lumix FZ-50 on eBay - text link (or click the pic above).

Offered for sale, my used Panasonic FZ-50 camera with Carl Zeiss mega-zoom lens.
This is the camera I did much of my stopmotion tests and practice with — you can see the results below. It won't give the sheer quality of a DSLR, but for most purposes you don't need that level of quality, and being a mirrorless camera it avoids some of the disadvantages associated with DSLR animation. This is why I bought it in the first place, and it did not disappoint.
Because there's no mirror box you avoid several problems that DSLR animators encounter:
It won't overheat no matter how long your session runs.

It uses thru-the-lens viewfinding so what you see in the viewfinder or rear screen (and computer monitor) is exactly what you will get in your final animation frames.

There's no internal shutter that wears out over time, so no need to track the number of shutter actuations to determine how much life it has left.
You do need to get a digital/analog converter in order to use it with a framegrabber. This is the way I always used it, but unfortunately I can't sell the converter with it - I'll post a link below to models that will work.

It's quite simple to use an analog camera through a converter for stopmotion. Scrub back and forth a few times between your last few captured images and the live feed to see if the movement is smooth. When you've got the puppets adjusted properly shoot one frame using the framegrabber, and one with the included remote to capture your beauty frame to the camera's memory card. 2 clicks per frame instead of one — it becomes second nature in a while. When you finish a shot you download the images from the card onto your computer and assemble them into a movie file using something like Quicktime Pro 7.

This does require downloading Quicktime 7 which is free, and then registering it to unlock the Pro features. Later versions of Quicktime don't include the features you'll need for assembling a folder full of images into a movie file. Here's instructions on how to download and install Quicktime 7 and register ($30) to unlock the Pro features: https://support.apple.com/en-us/HT201691 .

One thing you should know about this particular model of camera - if you read the reviews online they say it has poor low light performance, but that's people hand-holding it with the ISO cranked up to 800 or 1600. You're using it on a tripod in studio, so you can set a long exposure and soak up as much light as you want. No shaky handheld to blur things, and none of the graininess of pushing the ISO to the limit, just keep ISO set low, like 200 or 400.
I can verify this is a sturdy workhorse of a camera and will give excellent results unless you're a purist and really want that super sweet DSLR look. I'll be checking the message board regularly - if you need help setting it up or figuring something out just PM me.

I have a video that shows how to work with Quicktime Pro for stopmotion, including how to assemble a folder full of images into a movie file.
The first part is about using Lightroom for developing and cropping, the QT part begins @ 13:30. If you click through to watch on YouTube, I posted a link directly to it right at the top.

And as promised, here are some videos I shot with the camera (be sure to watch in HD):


And finally here's a link to the converter I promised - you'll need one of these to connect the camera to your computer for use with a framegrabber: https://www.amazon.com/TOTMC-Capture-Adapter-Windows-Window/dp/B00M...

This one seems to be only for Windows systems - if you use a Mac you'll need to find one that works for that. There are others listed under it on Amazon, look for ones with high ratings that say they'll work with your system, PC or Mac. Also, if you read comments, disregard any complaints about the included software -- you won't be using that, just connect it up and it will work. The software is for converting VHS tapes into CDs or computer files.

If anybody from here buys the camera, let me know in a comment through eBay that you're from SMA and I'll throw in the wired remote you'll need to snap frames without touching the camera.